Lovelorn men turn to artificial intelligence, dating guru to help get a date: 'Viagra for your social profile'
A London-based dating guru says AI tech will help men 'go from no dates to full diaries'
Men who have trouble finding dates are reportedly turning to artificial intelligence and self-described love guru to craft appealing dating profiles.
"My AI prompts and training can turn any guy from zero to hero," Stefan-Pierre Tomlin, a 32-year-old London model and self-described love guru, told South West News Service, according to the New York Post.
Tomlin operates a website called Celebrity Love Coach where subscribers can pay between roughly $55 to $150 a month to receive his advice and "support to help you achieve your dating goals," according to the website. Subscribers also receive access to "bespoke" AI to draft appealing dating profiles.
"I'm selling a real solution — a bespoke plan of action that uses machines to correct your dating fault," Tomlin said. "Think of it as Viagra for your social profile."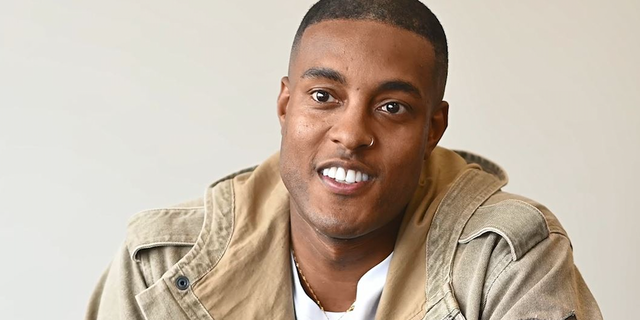 Love guru Stefan-Pierre Tomlin discusses how AI can help land men dates. (SWNS )
"You will go from no dates to full diaries," he added.
Tomlin calls himself Tinder's "most swiped right man," who never struggles for dates. He compared his dating services to people using dishwashers to make their lives easier, arguing, "my clients use AI and our training to make their dating lives more for a fulfilling, long-lasting connection."
The dating program uses ChatGPT, OpenAI's wildly popular chatbot, as well as software developed for Tomlin to learn people's profiles and even change their looks, according to Tomlin.
Tomlin hit back that using his services isn't a form of cheating and that he is just "evening out the playing field."
"It's not cheating, it's giving back power to the less fortunate," he said. "I am giving un-genetically blessed people a hidden advantage in the dating game."
Using AI to generate desirable dating profiles is not new, with a study out of the University of New South Wales, Sydney, finding in 2020 that 62% of single people would swipe right -meaning the user finds the profile attractive and wants to match with the person - on an AI-generated dating profile.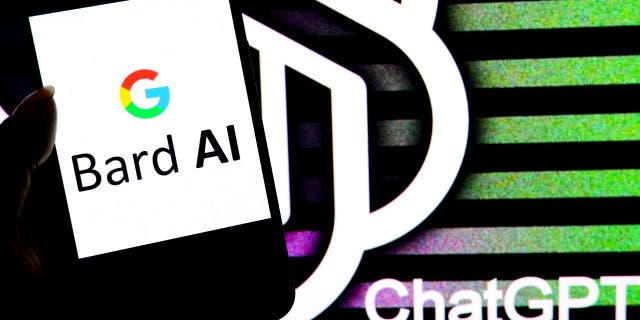 In this photo illustration, a Google Bard AI logo is displayed on a smartphone with a Chat GPT logo in the background. (Photo Illustration by Avishek Das/SOPA Images/LightRocket via Getty Images)
The study was based on a survey of more than 1,000 people who were presented with AI-generated profiles, including the photos and descriptions of the phony people. The study found that 67% of respondents said they would also want to train artificial intelligence to swipe right for them on dating apps.
A handful of recent news reports show men are increasingly relying on AI to match and message with women, and some AI-focused dating apps have already cropped up. CupidBot, an AI-powered dating app that claims to get people "several dates a week by doing absolutely nothing," was in beta mode as of last month and is expected to roll out to the masses in the near future.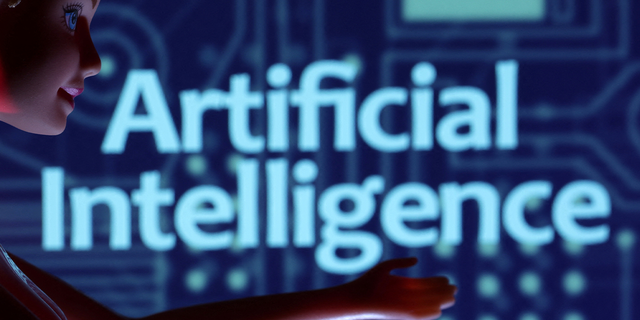 Artificial Intelligence words are seen in this illustration taken March 31, 2023. REUTERS/Dado Ruvic/Illustration (REUTERS/Dado Ruvic/Illustration)
"Dating apps have always favored women, so I decided to tip the scales … I fought back by building an AI-powered bot that could do the swiping and chatting for me," the creator of the AI dating app said in a since-deleted Reddit post, according to the New York Post last month.
Another AI dating app, iris, trains the technology to "match users based on the likelihood that they will find each other attractive," according to the site.
"iris can save you (a lot of) time in the long run. It's the only app that connects members based on the likelihood of mutual attraction. And there is no catfishing on iris: all member photos are verified with a selfie," the site continues.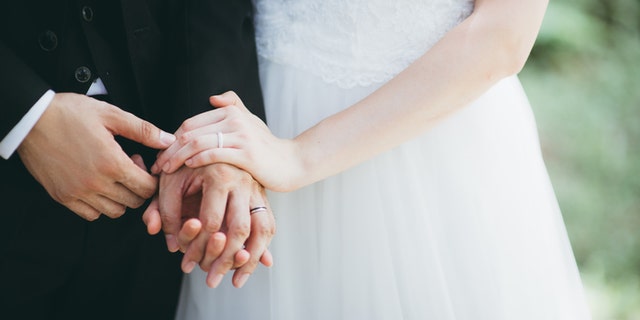 Close-Up Of Couple Holding Hands with wedding rings (iStock)
For Tomlin, he said his aim for coaching those looking for love is to "transform the dating game by using AI technology and software developed to allow men to match with women."
His coaching program has already paid off, according to Tomlin, explaining that 32 out of the 45 men he has helped over the last two months got a successful date.